Become a Reseller
When you become an approved reseller you can place your order on line or you can order by calling us at (323) 375-5250.
To Place Your Order Online:
1. Simply log in using your username and password.
2. Put the sleep masks you want into your shopping cart (minimum 24).
3. Your total purchase will be at the wholesale price.
4. If you have terms, an invoice will be included with your order. Otherwise, your credit on file with us will be charged prior to shipping your order. Shipping will be by the least expensive method unless other arrangements have been made.
5. For custom orders such as silkscreen or embroidery, please call (323) 375-5250.
Be sure to ask us about our attractive display box.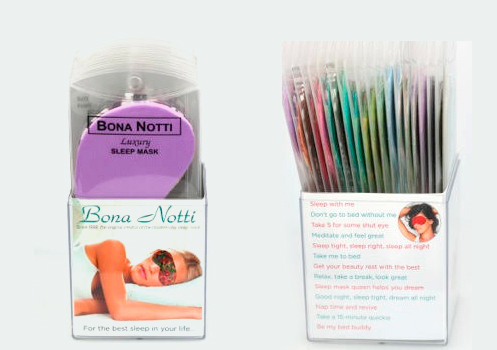 To receive our wholesale catalog or pay wholesale online, you must have an existing retail or wholesale business.
Please fill out and submit the form below or fax the information to (323) 315-4244.
We will also the need the following documents:

A copy of your seller's permit
If in California - Sales Tax & Use Certificate; and,
Credit references if you want net 30-day terms.